Awkward Thursday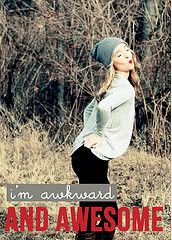 Awkward:
1. Second time I have sneezed and tinkled in my pants.
2. Realizing that I apparently am a 1%... not the 99% that is protesting
3. Sharing with other ladies how great a brazilian is. Pretty sure they will never look at me the same way again
4. Sometimes, more recently than before, I get confused. For instance, I have managed to loose my car in the parking lot many times. Honestly, and there were only a dozen or so cars. Pretty certain when I am 80 I will be that crazy cat woman (not that there is anything wrong with being the crazy cat woman)
5. The toddler is catching on to the fact that there is a baby incubating inside me. She only seems to get the tummy confused with the "ta-ta's". It would make more sense if I were having twins.....
6. Speaking of the toddler, I got scolded for wearing one of her flowers in my hair. Hmm.. good thing I am the mom and can still convince her to let me have it. (wondering what it will be like in 10 years though)
source: unkown. But To whoever you are, well said my friend, well said.
Awesome:
1.18 weeks. Yahoo
2. $23.21 over our grocery budget. BUT... that includes halloween candy AND food storage. So, pretty awesome. (note: ours is $160 month... down from $180)
3. Speaking of food storage, please hold your applause and don't be jealous. We officially have our 1 year supply of food. And if you are thinking of coming and stealing it, I am not afraid to use my taser.
4. Hubby reaching over as we fall asleep to hold my hand. (swoon)
5.
SEVEN DAYS
until we are leaving to DC to
celebrate the hubbs big 2-9
!
(dear occupy wall street... don't you dare do anything to ruin this bucket list vacation!!!)
6. Up-cycled the old school iPod by downloading superwhy and giving it to the toddler. Oh yeah, hand over the smart points please!
7. The Houston MudRun. Good Job babe! and Colton